As a Canadian can I hike the Appalachian Trail?
Welcome fellow Canadians! Short answer is yes!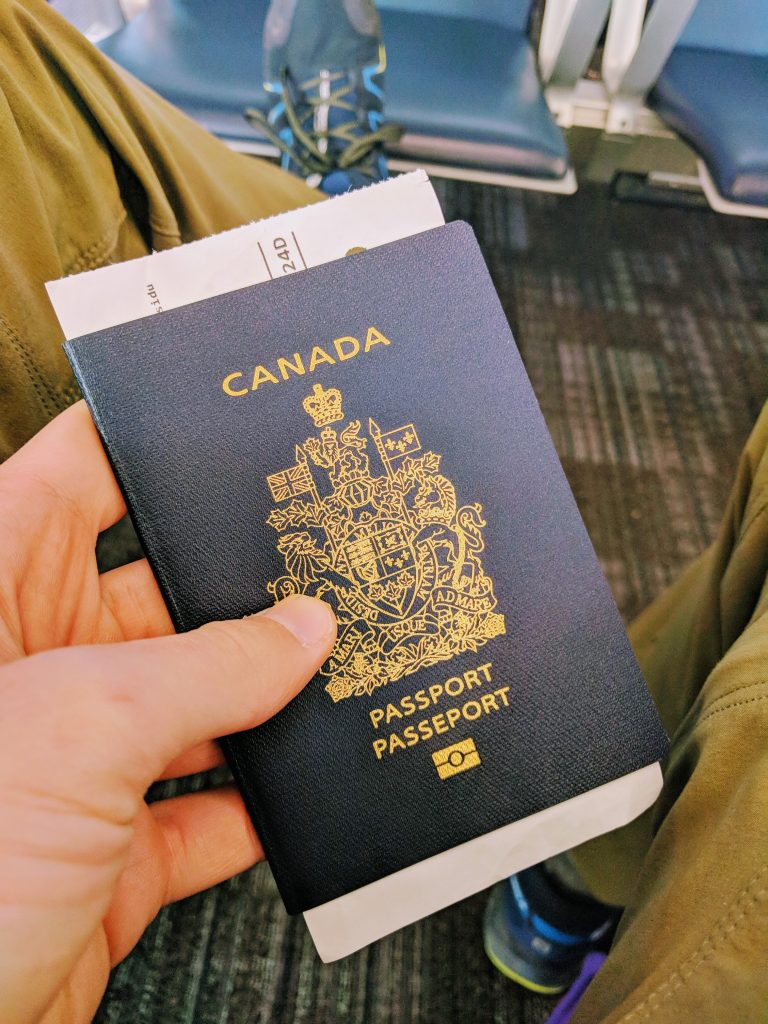 Do I need a Visa?
You don't need to get a Visa in advance to go to the USA. When crossing the border, let them know you're going to hike the Appalachian trail, and that it's going to take 6 months. It is also a good idea to show them your gear if they want proof. As long as you haven't been to the USA that year, they will probably give you a ~6 month tourist visa on the spot.
Sometimes the border agent can be tricky and ask you for proof you're going to be leaving the USA at the end of your stay. What we did, was show them our funds and explain we weren't sure what date specifically we'd be finished the trail by and they were okay with us not having plane tickets home.
One thing to keep in mind, is there is a chance that the agent won't give you the full 6 month tourist visa. We were given a 4 month visa by the border agent, as its really by their discretion. What you get can vary based on who you get at the window that day. Lucky for us, we only had 2-3 months worth of funds for our travels, so 4 months worked perfectly.
Get Travel Insurance!
One thing I do recommend, is be sure to get travel insurance. It costs a pretty penny, but is well worth it in case of an accident. Medical fees are insane by comparison. We went with Manulife Insurance and spent around ~$300 for 3 months worth. It covers medical expenses up to 10 million dollars. That is a lot of cheddar! Luckily we didn't have to use it on our travels, but for peace of mind, it was well worth it.
Exchange Rate
When we went on our trip, we had to take exchange rate into effect as the Canadian dollar was very low compared to the US Dollar. See below for the current cost of 1 USD to CAD, to get an idea on how far your money will stretch.
Using the information above, as of writing this post. 1 USD costs 1.36 CAD. So if you have $3000 CAD that would equal ~$2206 USD. It sure is pretty pricey at the moment to be traveling to the states! So do keep this in mind when planning your trip!
Mail Drop
A lot of hikers from the states will send themselves mail drops, containing full resupplies or gear as required. They send all their mail in advance before they hit the trail or get family members to send it out as they go. As a Canadian, the cost of mailing these heavy shipments over the border can be pretty steep. What I recommend, is when you get into the states, and want to do these mail drops, you can go into a major city and stock up on some cheap resupply materials from Walmart etc. Then go to a USPS and ship yourself a few boxes to a few places along the way. Some of the places like hostels, will charge you a $5 fee to hold your package for you, so its a good idea to call or research the costs before you ship a package to a future destination. See this post for some great pointers on mail drops!
I didn't end up using mail drops but if you're on a budget, doing this might save you a decent amount of money on your food bill!
Conclusion
As a Canadian, there are a few things holding you back from hiking the trail. Like dealing with the visa process and expense of the exchange rate. However once, you're passed that, the adventure awaits! Have any questions regarding traveling to the USA to hike? Please leave them below!
Happy Trails, Snickerdoodle